Quick Info
Library has open Access system with a rich collection of 39111 volumes (Books) and 3136 Titles in all Disciplines. In addition, Library has subscribed 86 Print Journals, DELNET, INFLIBNET online Journals along with 10 Magazines and 6 Newspapers.
There is a separate section for UG, PG with stock, Reference, Periodical, Back volumes, e-Learning, Non-Book material and competitive Sections.
A well established Digital Library with high-speed internet facility Wi-Fi enabled for 25 systems with 20 KVA UPS for backup. The AICTE MHRD mandatory e-consortiums and EDU SAT programs like NDL, NPTEL and SWAYAM PRABHA online databases are encouraged.
Non Nook Material, Welfare books, Projects, University Previous Question papers and self-learning Resources are available.
.Library Working Hours
Monday – Saturday : 9:00 A.M to 6:00 P.M
Sunday- Holidays : 9:00 A.M to 1:00 P.M
Infrastructure
Central Library is located in the central block I Ground floor with duplex model, the carpet area of 750 sq. meters with 170 seating capacity equipped with a Surveillance System for security measures. Operations of the library are automated using "E-CAP" Library management software with the barcode; WEB OPAC provides easy access to Library Resources.
All the printed Books of Text, General, Reference nature have been stacked at the stock area.
Books have been classified and arranged following the Dewey decimal classification scheme suitable subject guides have been provided for users help at relevant places.
All current SIET Students, Staff, Research Scholars and Academic professionals are eligible to become members of the library.
Library users has the privilege of direct access to the book Shelves, reading hall and may enjoy the freedom to browse among the books, Journals during specified hours.
.
Self Learning
JOURNAL – SUBSCRIPTION
Print Journals : 724
Online Journals : Available
(DELNET,J-GATE)
General and Technical Magazines : 10
An Initiative of Ministry of Human Resource Development (MHRD) Launches 4 Digital Learning programs through National Mission on Education Information and Communication Technology (NMEICT) to push e- Education.
The Central Library is also a member of below learning Databases.NDL
SWAYAM
NPTEL
DELNET
e- Books
e-Journals
e- Question Banks
Course Files
Lecture Notes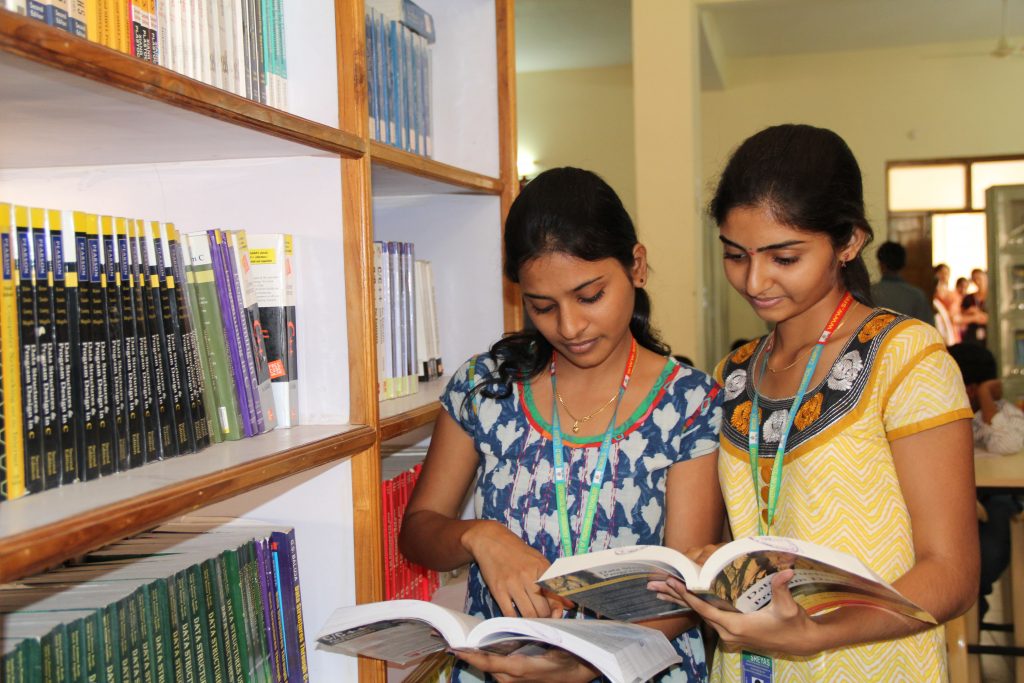 Library Volume Details
| S.No | B.Tech/M.Tech | Total No.of Volumes |
| --- | --- | --- |
| 1 | B.Tech | 36, 342 |
| 2 | M.Tech | 3,154 |
| | | 39,496 |
---
LIBRARY TITLE DETAILS
| S.No | B.Tech/M.Tech | Total No.of Titles |
| --- | --- | --- |
| 1 | B.Tech | 2,606 |
| 2 | M.Tech | 669 |
| | | 3275 |
M.TECH LIBRARY TITLE DETAILS
| M. Tech  | Volumes | Titles |
| --- | --- | --- |
| 1. CSE | 1355 | 248 |
| 2. DSCE | 683 | 150 |
| 3. Embedded System Design | 715 | 194 |
| 4. CAD/CAM | 401 | 77 |
B.TECH LIBRARY TITLE DETAILS
| B. Tech | Volumes | Titles |
| --- | --- | --- |
| 1. CSE | 8957 | 638 |
| 2. ECE | 8768 | 541 |
| 3. Mech. | 5100 | 535 |
| 4.Civil | 2789 | 432 |
| 5. H&S | 10,728 | 460 |
M.TECH AND B.TECH LIBRARY DETAILS
| S.No | M. Tech & B. Tech | Volume Number |
| --- | --- | --- |
| 1 | International Journals  | 110 |
| 2 | National Journals  | 724 |
| 3 | Magazines | 10 |
| 4 | e-Journals - Infotrac | 841 |
| 5 | e-books | 1021 |