Entrepreneur Development Cell
The main objective of this cell is to train the students and integrate the culture of entrepreneurship and to make the students eligible to achieve their dreams of starting their own enterprise. Young graduating Engineering students across the country need proper placements depending upon their talents for which a proper industrial exposure is essential. The curriculum also should have a great bearing in accordance with the need of the industry. The important institute interaction will help to achieve the above objectives. Awareness should be created among the students, regarding entrepreneurship as a career option. Providing opportunities to the degree level engineering institutions to improve their knowledge upgrade their skills and enhance their qualifications is the main motto of this cell. The Startup Experience introduces students to the entrepreneurial mindset and provides hands-on training in high impact entrepreneurship. Participants develop creative capacity, entrepreneurial confidence, and acquire the necessary skills to build scalable startups that solve real problems.
Events Organized 
2017 – 18

2016 – 17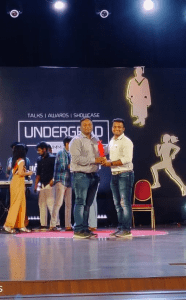 Mr. Shreyas Reddy, won the Best Student Entrepreneur award 2019, by StuMagz for Stagger.in
Mr. Shreyas Reddy from ECE Department, stood as 1st Runner up at the Global Studmet Entrepreneur Awards. He has also represented JHTUH at National Camp at Indore, which was organised on 10th to 12th January, 2019.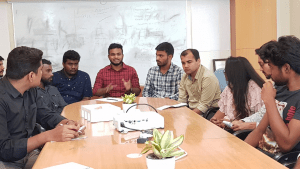 Our Students represented Sreyas Institute of Engineering and Technology at Telangana State Innovation Cell, Where they discussed about challenges in Entrepreneurship. The students who have participated will be the members to conceptualize the entrepreneurship course, which will be integrated to B. Tech Program in future.
First edition of Studentprenuers                                            Wission talks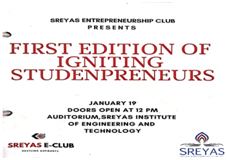 Under the direction of Dr.Suresh Akella ( Principal & Professor MED,SIET) ,Mr.K.Sainath (EDC ,teqip-III , Innovative cell co-ordinator & Associate professor in MED SIET) with his associates displayed the four products ( Split water cooler,Static UPS system,Solar refrigerator and Mobile Portable Air conditioner)in  the  Free stall provided  by JNTUH EDC cell at MSME Expo-2017 NVDP Cum Industrial Exhibition (19th & 20th November 2017 where other300  industries displayed their products for publicity & marketing .These products are purely designed and fabricated by SIET . Dr.Akella  and K.Sainath Explaining about the products to event president & organisers
JNTUH- EDC cell, Under MSME, they Sanctioned Rs 6.26 Lakhs for Psychrometric Room to Test Air Conditioners and Refrigerators At Sreyas Campus, we have registered Company by name M/S Akella Systems, developed Product (Portal AC) which is performing well and entered the market with a competitive price.
Events organized by EDC