DEPARTMENT ACHIEVEMENTS
A 23 Lakhs worth 3-year Research Project was granted in the 1styear itself and has been successfully completed, provided under National Fusion Program by Board of Research for Nuclear Science and Technology (BRNST).
MSME- EDC 6 LakhsFunding for the testing and manufacturing of mobile Air-conditioners TECMSHE Tech Support For R & AC, Sreyas In house Manufacturing unit (R&AC Incubation Centre) collaborated with ISHRAE is run by our students & staff has developed "Mobile Air Conditioner" and many other products which are to be marketed.
Successfully completed project with sanction amount of Rs. 3,00,000 under Collaborative Research Scheme, TEQIP-III, JNTUH.
Sreyas has been awarded with Indian Society for Technical Education (ISTE) best STUDENT CHAPTER.
An International Journal "Sreyas International Journal of Scientists & Technocrats" is run by staff members to promote young engineers & Scientists. http://www.sreyasirst.org.
INDUSTRY IN INSTITUTE
AKELLA SYSTEMS Company was incubated and seeded in Sreyas Institute of Engineering & Technology to design, develop and produce  R&AC products. The initiation happened with MSME-EDC-JNTUH funds under Prof. Asha Rani Guru and Prof. YaddiahGaru, obtained in 2014.
The psychrometric room in the company gives a testing of R&AC products. Many ISHRAE products and Akella Systems mobile AC products were developed in this company. For TEQUIP Project MECH008 to develop an R134a Mobile air conditioner these company facilities were used. The main objective of Industry in an institute avails training and skill development to students and staff within the institute similar to a Hospital in an MBBS. The number of UG, PG, and one Ph.D. candidate have availed this facility for their projects.
Excellency and Innovation Lab
The labs in Mechanical Engineering are of innovative type in the emerging field of Mechanical Engineering with outsourcing and consultancy support provided from industries.
The Labs includes:
Consultancy Projects
Research and Problem Solving is the lifeline for all the Faculty. We have different routes, how we receive the problem statements from the Industry – Through our student internships where faculty get connected to the organizations and understand the problems and the same is given as projects to the students and resolution/solution arrived at. Here, in this case, no fees involved its mutual benefit and experience gained solution obtained.
Mechanical department @ SRYS gets into an MoU (Memorandum of Understanding) giving an opportunity for industry organizations to make use of its facilities as well as Talent available. Depending on the clauses in MoU the services may be charged on peruse basis or on a project basis. some of the recent projects undertaken are bed AC and kitchen grease filters.
(a) Cooling System Solution To An Electric Vehicle
From: HBL(Hyderabad Batteries Limited)
Investigators: Dr. Suresh Akella
(b)Kitchen Grease Filtration (on CFD Analysis)
From: DEREK SCHROCK, HALON COMPANY
Investigators: Dr. Suresh Akella & P. Praveen Kumar
(c)Miniature Air Conditioner
MOU From: SURYODAYA  INDO TECH AUTOMATIONS
Investigators: Rama Krishan
(d)Scroll Compressor design
From: HCL Limited
Investigators: Dr. Suresh Akella & K Sainath
Best Display Projects of the Department Students
Integrated Geyser – water cooler – AC.
Design & Fabrication of Solar Mobile Refrigerator.
Design and CFD air flow simulation of filter in the kitchen chimney
Fabrication of portable Air Conditioner using R132A
Design and Fabrication of multi-camera slider
Hybrid Wind & Solar Energy
Go Carts
Solar Collectors
Compressed Air Vehicle
Wind Mills and many more.
World Bank Project Funding Summit- TEQIP III
Sreyas Institute of Engineering and Technology (Mechanical Faculty) got selected out of many nominations received by JNTUH, to participate and propose project details at World Bank Project Funding Summit, Delhi under TEQIP III, along with JNTUH Rector Prof. T Govardhan and Dr. AVSSK Gupta (HOD, Mechanical Dept., TEQIP III Coordinator).
Students Achievements
Sri Yasaswi Kasyap Chitta, a diligent student of Mechanical 2020 batch graduate has presented his extraordinary skill set by filing multiple patents, publishing papers, and winning awards
---
Mr. B Nikhil Kumar is, Proud Alumni of the Mechanical Department who is currently working as a Scientist / Engineer at Satish Dhawan Space Center SHAR, Indian Space Research Organization –ISRO, Sriharikota.
---
Varun Reddy Banda is one among the few selected to participate in "Mechanical Engineering Opportunity in Egypt" Organised by AIESEC for 20 days in the month of June 2018.
---
AIESECis a leading Global Student Organization accredited by the Dept. of Public Information (DPI), the United Nations Educational, Scientific and Cultural Organizations(UNESCO), and the International Labour Organization (ILO).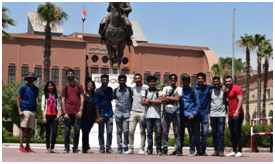 ---
Rathi pathi has participated in various National and International level throw ball events.