M/S Akella Systems, a company developed by the R&AC Incubation centre of Mechanical Engineering Department which is producing number of Products, Internships, Projects, Consultancy works which is required by the society.
Akella Systems, A factory within the campus has successfully launched its 1st product SMAC – Sreyas Mobile Air Conditioner into the market.
Mr. B Nikhil Kumar, Proud Alumni of Mechanical Department who is currently working as Scientist / Engineer at Satish Dhawan Space Center SHAR, Indian Space Research Organization –ISRO, Sriharikota.
Mr. Varun Reddy Banda is one among the few selects to participate in "Mechanical Engineering Opportunity in Egypt" Organised by AIESEC for 20 days in the month of June, 2018.
AIESEC is a leading Global Student Organization accredited by the Dept. of Public Information (DPI), the United Nations Educational, Scientific and Cultural Organizations(UNESCO) and the International Labour Organization(ILO).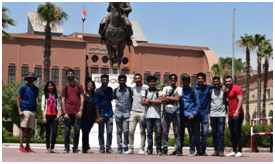 ---
Sri Yasaswi Kasyap Chitta, a diligent student of Mechanical 2020 batch graduate has presented his extraordinary skill set by filing multiple patents, publishing papers and winning awards.  View
---
R&D Project Sponsored by
MSME and funded an amount of RS 6.25 Lakhs for
"Power Saver: Roll Bond Evaporator for Air Conditioner"
BRFST (Board of Research of Fusion Science and Technology under NFP)  Sponsored – 21.28 Lakhs, Simulation studies on weld processes for SS materials for fusion reactor fabrication with ANSYS/ABAQUS packages NFP-MAT-A11- 02
Best Sponsored Projects from ISHRAE
Display water – 28k
2. Static UPS system – 24k
3. Spot Cooling system – 36k
4. Solar Refrigerator – 48k
JNTUH– EDC cell, Under MSME, they Sanctioned Rs 6.26 Lakhs for Psychrometric Room to Test Air Conditioners and Refrigerators.
Department Laboratories are equipped for taking Consultancy Projects.
Suryodaya IndoTech Automation – Bed Air conditioner
Derekschrock, Halon – Kitchen Filters
HCL – Consultation & Facilitation on scroll and String process compressor design.
Best Display Projects of the Department Students
Integrated Geyser – water cooler – AC.
Design & Fabrication of Solar Mobile Refrigerator.
Design and CFD ari flow simulation of filter in kitchen chimney
Fabrication of portable Air Conditioner using R132A
Design and Fabrication of multi camera slider
Hybrid Wind & Solar Energy
Go Carts
Solar Collectors
Compressed Air Vehicle
Wind Mills and many more.
More than 100 publications were published in International & National Journals and conferences.
Sreyas Institute of Engineering and Technology (Mechanical Faculty) got selected out of many nominations received by JNTUH, to participate and propose project details at World Bank Project Funding Summit, Delhi under TEQIP III, along with JNTUH Rector Prof. T Govardhan and Dr. AVSSK Gupta (HOD, Mechanical Dept., TEQIP III Coordinator).