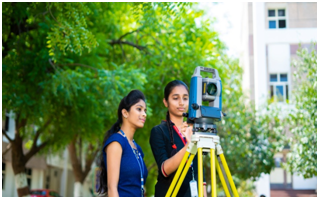 Civil engineering is the old and first engineering discipline that deals with the planning, construction, and maintenance of fixed structures, or public works, as they are related to earth, water, or civilization and their processes. Civil engineering deals with bridges, roads, railways, structures, water supply, irrigation, power plants, the natural environment, sewer, flood control, transportation, and traffic. In essence, civil engineering may be regarded as the profession that makes the world a more agreeable place in which to live.
The department was established in the academic year of 2014-2015 with an intake of 60 B.Tech students.
The department has state-of-art laboratories, to be specific, concrete technology, highway materials testing, soil mechanics, surveying, and environmental engineering with advanced equipment beyond the academic curriculum. The department also undertakes sponsored research and industrial consultancy works.
The faculty members of the department are from IITs, NITs, KU, JNTU, and other premier institutes with various specializations in Civil Engineering.