June 11, 2020
Posted by:

admin

Category:

CENTRE FOR SIGNAL PROCESSING AND COMMUNICATION SYSTEMS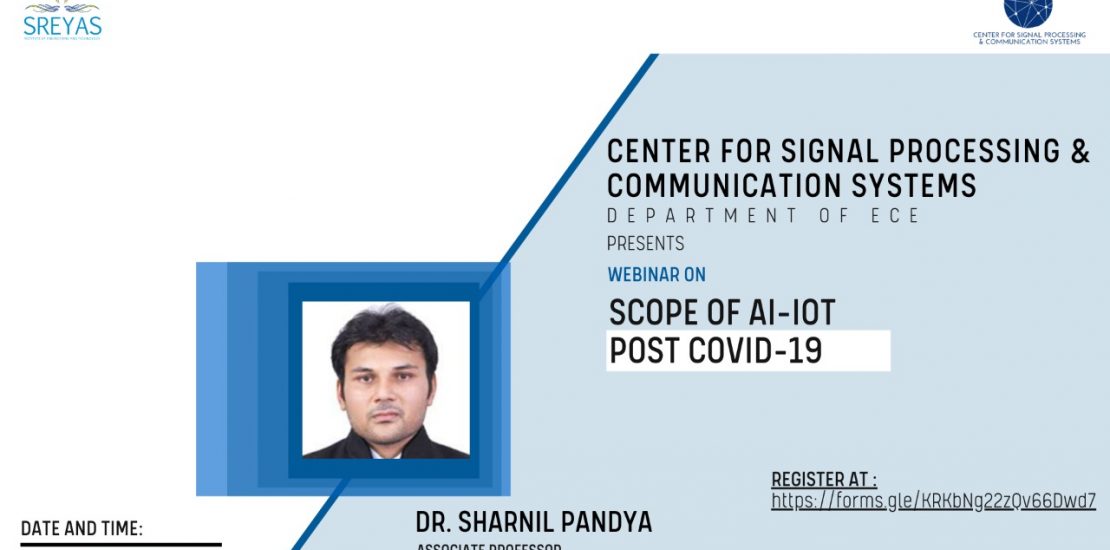 SCOPE OF AI-IOT POST COVID-19
The webinar on Scope of AI-IOT Post Covid-19 is organized by the Center for Signal Processing and Communication Systems (CSPCS) on 11th June 2020 by Dr. Sharil Pandya.
About speaker
Dr. Sharil Pandya(Associate professor, symbiosis international university) also worked as an associate professor at Navrachana university and is highly skilled in languages such as C, C++, SQL, HTML, JAVA. He is also extremely
skilled in technologies and tools such as Microsoft Word, Microsoft Office, Microsoft Excel and many more such software tools.
Introduction and webinar
The webinar started at 11:00 am and lasted up to 12:15 pm. The speaker Dr.sharil Pandya sir started the webinar after a welcome by the CSPCS student coordinator. Around 100 students registered themselves for this program.
The program started with giving an introduction to the basics of networks. Answers to many basic questions such as what a network is? How many types of networks do we have? Which network is used when and where?
How and why? are explained in detail. It further continued by giving a brief introduction to IoT and its components.
Uses and applications of IoT are also taught to the participants. Proceeding to the basic cognitive IoT concepts, IoT networking technologies are clearly explained. These topics also included the scope of IoT in the industries and many more areas of interest in upcoming years. The webinar turned much more interesting to all the participants when the
introduction to connecting cars (VANET) is being taught to them. Participants found this topic more interesting which led to interactive sessions.
The speaker further mentioned about the scope of AI-IoT post-COVID and also provided few guidelines to the students and the remaining participants to learn about their role and activities. The program continued with an interactive Q&A session and all the participants found this program highly interesting and informative.
The Ending Salutations
The program ended with a vote of thanks by the CSPCS student coordinator.